How can we help?
Here at MorzineShuttle we run a secure real-time online booking system, which means that the displayed availability and pricing is up to the minute and fully bookable online.
Please see our frequently asked questions and answers below for more information about our service and further contact details.
LATEST COVID UPDATES
Following announcements made by the French government, please be aware that from the 1st August 2021 guests are required to show proof of double vaccination or a negative PCR test from within the previous 48 hours when they are traveling on the Morzineshuttle. Failure to do so will mean you will not be able to travel so please make sure you have all the documentation in order on arrival.


I can't find an email confirmation from you, have you sent me one?
Please check your spam folder and add server@morzineshuttle.con to your address book as our emails can get stuck. If you still can't find your confirmation, then please email us and we will resend.
Click here to contact us
Do I need to print off my email confirmation as proof of purchase?
You can either print off your email confirmation or have it saved to your smart phone, and show us via your smart phone.
I need to get up to Avoriaz, can you drop me at the top station?
No, for customers travelling to Avoriaz, we drop off and pick up at Les Prodains cable car, Les Prodains cable car is the quickest way up and down the mountain.
I want to be dropped off at a specific chalet in Les Gets, is this possible?
Yes, we offer door to door service for Morzine and Les Gets.
I cannot find my accommodation in the drop down menu, is it still ok to get dropped off there?
Yes, we drop off and pick up at all locations in Morzine and Les Gets.
From the location menu, please choose 'other' and specify your location.
Can I get dropped off at another location in Geneva?
No, we only travel to Geneva airport.
Do I need to bring my child's car seat with me for travel?
No, we have child and baby seats for all ages. When booking please select the required child seat(s)
What does Private shuttle mean?
A private shuttle is a shuttle that is booked just for your group.
You will not have to share the shuttle with anyone else.
It will still leave at the scheduled time, so please make sure you have left enough time to get through the arrivals hall. However, if you do miss your scheduled transfer, you will be able to get on the next available scheduled transfer at no extra cost. It is possible that the next available transfer may not be a private shuttle and the client(s) may be required to share with other passengers. Depending on availability, the next available transfer may not be until the following day.
How long should I leave to get through the airport on arrival?
We advise that customers leave at least an hour to get through the arrivals hall.
Can I book over the phone or by email?
All our bookings are done online through our website, through a secure server. If you are having trouble with your booking please contact us for help.
Click here to contact us
I need to amend my booking, how do I do this?
You can amend your booking yourself by logging into the client area of our website with your email address and password.
LOGIN TO YOUR CUSTOMER ACCOUNT
I have booked a 10:00am shuttle from Morzine; will you pick me up at exactly 10:00am?
You need to be ready and waiting 30 minutes before your scheduled transfer time; we pick up in a thirty minute window, and leave resort at the scheduled transfer time.

A flexi ticket enables you to get on to the next available transfer should you miss your scheduled transfer due to flight delays. Without a flexi ticket, you would need to re-book and pay again.
Which hamlets are included in the Morzine drop off location?
We drop off people who are staying in Morzine town, Montriond, Nyon and Essert Romand. We do not travel to Ardent and Cote D'Arbroz.
Where do you pick up / meet up in Geneva Airport?
On arrival, as you exit customs you will see the yellow Visitors Centre in front of you. Turn left and follow the signs for the train station. After approx. 200m you will arrive at some revolving doors. Go through these and turn left. You are now in the Train Station. Carry on straight for approx. 300m, heading for Migros Supermarket. You will find your driver standing to the right of the supermarket.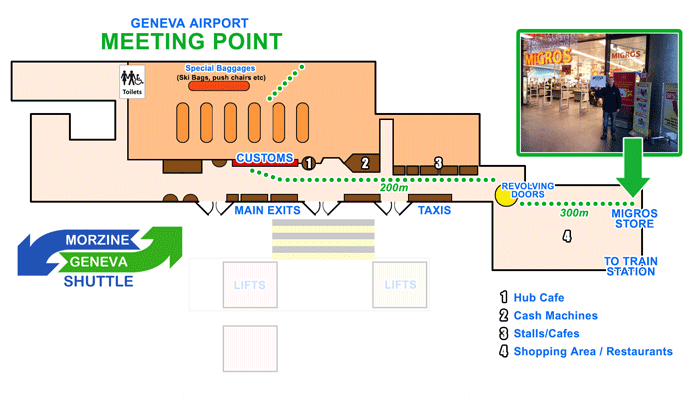 Where do you pick up in Morzine?
We can pick you up from your accommodation if you are in Morzine town, Nyon, Montriond or Essert Romand.
We can also pick up from your accommodation in Les Gets, as well as the tourist office in St Jean D'Aulps, Taninges and Les Prodains cable car for customers travelling to Avoriaz.
Where do I pick my lift passes up from?
If you are not a Morzinelets customer and not a Morzineshuttle customer, please provide us with an address of where you would like your ski passes delivered as well as an appropriate time. You can do this in the additional comments box when you make your booking. If you wish to notify us after you have made your booking, please e-mail cs@morzinelets.com along with the delivery address and time.
What contact number should I use if I need to contact you on the day of my arrival/departure?
Please use the contact number provided on your booking confirmation.
The transport managers number is 0044 (0) 7836 592102. Please do not use the sales number on the front of the website if you are waiting for a transfer.
UK HEAD OFFICE
Morzine Shuttle
Staverton Court,
Staverton,
Cheltenham.
Gloucestershire,
GL51 0UX.
United Kingdom

Customer Support:
Telephone : 0044 (0) 7836 592102
Mon-Fri. 10am-4pm (GMT)


FRANCE OFFICE
Morzine Shuttle
Les Rhodos Hotel
18 Rue du Bourg
74110
Morzine, France

Les opérateurs français
T: 0044 (0) 7836 592102
Lundi-Vendredi 10h-16h